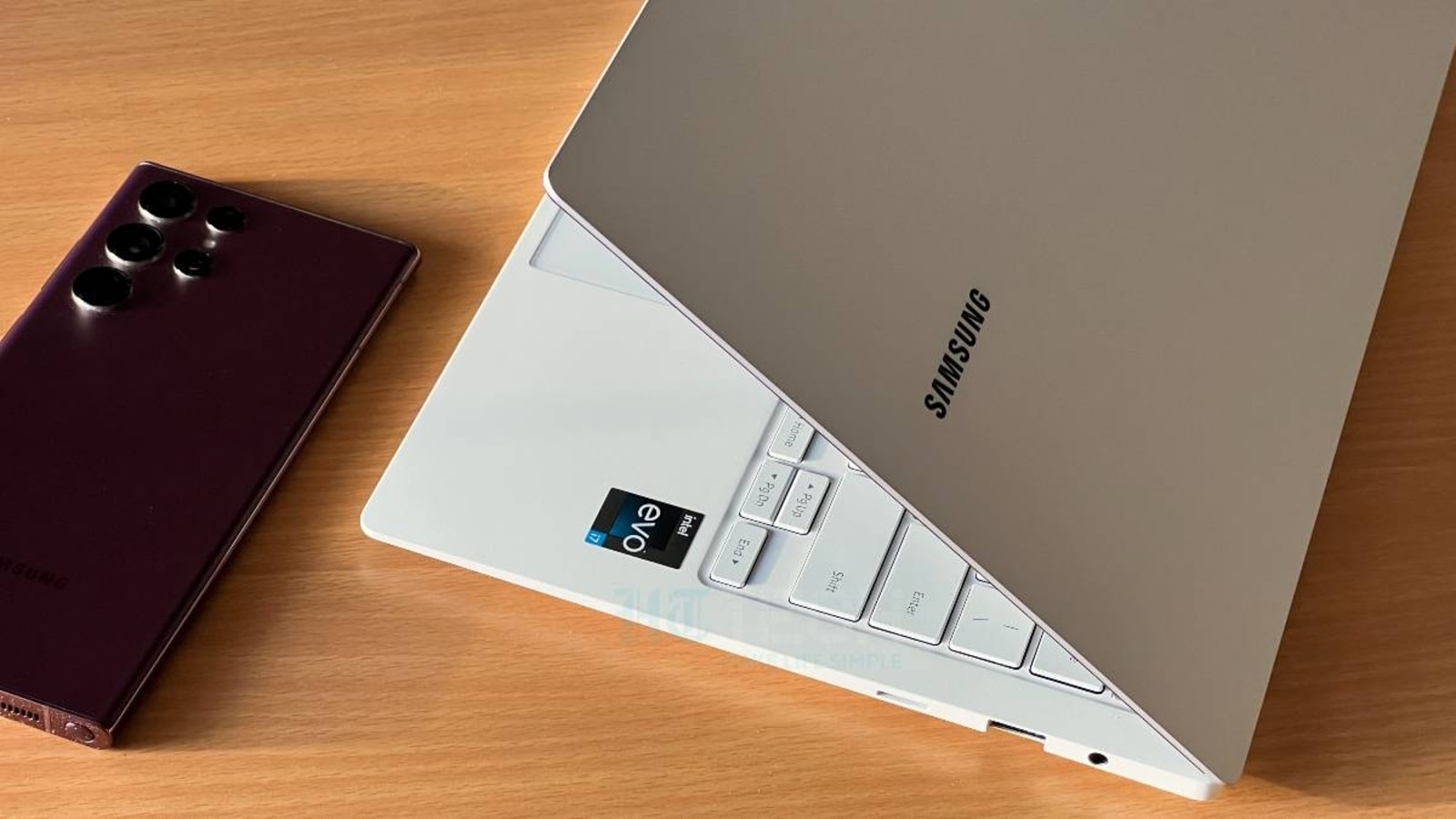 Samsung Galaxy Book 2 Pro review: simply spectacular
The Samsung Galaxy Book 2 Pro is a stunning Windows laptop that raises the bar for competition in the premium laptop arena. Here is our full review.
If you have more than Rs. 1 lakh to spend on a laptop, the Dell XPS becomes "THE" laptop to go for if you don't want a MacBook. For years, the Dell XPS has set new standards for the premium laptop space, delivering a supreme user experience that most of its rivals struggle to match. And then comes Samsung with its Galaxy Book 2 Pro – a high-end Windows laptop that does high-end things differently. And, it's refreshing enough for Dell to stand up and take notice.
Samsung may not be a household name in India in laptop showrooms, but globally your favorite foldable maker has wowed crowds with stellar Chromebooks and Windows machines. Now, with its re-entry into our market, Samsung offers a whole range of stellar Windows laptops across the price range. And the Galaxy Book 2 Pro is by far the best of the line. Starting at Rs. 1,06,990, it seems like a bargain for what you get.
For this review, I used a 13.3-inch Galaxy Book 2 Pro with the 12th Gen Intel Core i7 processor, which will set you back Rs. 1,14,990. Before you ask, you get the charger in the box.
Design of the Samsung Galaxy Book 2 Pro
Samsung does contemporary design well on its smartphones and tablets, and on its high-end laptop, it replicates the same. The Galaxy Book 2 Pro looks pretty normal for a laptop, but those with an eye for detail will appreciate its slim body and sleek lines. In fact, thin is the theme here, with the lid and deck being as thin as the MacBook Air. It won't catch the eye like one of those over-the-top Asus ZenBook laptops, but understated looks will find takers. The screen has substantial bezels for a laptop of this class, but Samsung's clever design hides all that well. And when you pick it up…
Oh man! It is by far one of the lightest laptops I have ever used. The featherweight would be an exaggeration, but next to my MacBook Air it looks like nothing else. At 870 grams, you can flick through it like you wouldn't with a tablet! I can pick it up with just two fingers, carry it to my room, and slip it into my backpack. This despite the fact that the lid is made of metal. And it's not that the build quality suffers – it's a sturdy laptop by any means. And in this shade of silver and white combo, it looks handsome.
Before you start wondering, all the crucial I/O ports are here. A USB-C port for charging and data, another USB-C with Thunderbolt 4 specifications, a USB-A 3.2 port, a standard HDMI port, a microSD card slot and a 3.5mm audio jack are present – most rivals leave you with just two USB-C ports! Samsung takes the best points here.
Samsung Galaxy Book 2 Pro screen
No one displays better than Samsung and so from its flagship laptop you expect the best. On the Galaxy Book 2 Pro, you get that. It has a 13.3-inch Full HD AMOLED display in 16:9 aspect ratio and 60Hz refresh rate. I agree that some of Asus' high-end laptops offer OLED displays higher refresh rate with much higher resolution, but Samsung's screen tuning is superb. In the standard "Samsung AMOLED" setting, the Galaxy Book 2 Pro's screen looks vivid with adequate brightness levels, great contrast, and vivid colors. The auto-brightness feature is a godsend and the "True Tone" type feature continues to adjust color tones to better suit the eyes. This also supports HDR content and on supported content it looks great.
Samsung Galaxy Book 2 Pro performance
All the latest news here! The Samsung Galaxy Book 2 Pro offers a 12th Gen Intel Core i7-1260P processor paired with 16GB of RAM and 512GB of SSD storage. No dedicated GPU here, but you do have the capable Intel Iris Xe onboard graphics. It comes preloaded with Windows 11 out of the box, along with a few Samsung apps for customization and additional features.
Note that the Core i7 processor here is the mid-range variant with 28W of power (the U-series is for efficiency while H is for super high-performance machines). This is our first look at the 12th processors and expectations have reached an all-time high given Intel's promises of much better efficiency. The experience, however, didn't come as close as the hype.
For regular tasks, the Samsung Galaxy Book 2 Pro has more than enough power to power through without breaking a sweat. As expected from a Core i7 processor, the laptop can handle generic office workloads with ease – the workload in my case involves MS Word, WhatsApp web app and Google Chrome with 10-12 tabs running simultaneously for 11 to 12 hours straight. However, the laptop sometimes wobbled, and the effect was noticeable on running apps (Word sometimes responds slowly, as does Chrome). After a while, I figured out that the battery saving measures were solid, so switching to "Performance" modes from Windows Settings helps speed things up. Still, the performance isn't as consistent as I had hoped. This is an issue I observed on another 12th Gen Intel laptop. Maybe Windows 11 needs to be better optimized for these processors.
But despite the power-saving measures taken as standard, I was only able to get 7 hours straight from the 63 Wh battery. That was with auto-brightness enabled and a constant connection to Wi-Fi networks. Perhaps Samsung could have stuffed a larger 90Wh battery to achieve over 10 hours of battery life with real-world use; nobody would care about a thicker laptop with more battery life. The 65W USB-C Charging Adapter takes over 1.5 hours to fully charge.
Mind you, a Dell XPS or HP Specter performs the same under these circumstances, so the Samsung Galaxy Book 2 Pro is on par with the best Windows machines here, but a notch below the MacBook Air M1. However, it manages its thermals better than a MacBook Air M1, especially in the Indian summer. Despite working all day, the Samsung Galaxy Book 2 Pro never warmed up uncomfortably. I rarely heard the fans come into play, which is another good thing.
Samsung Galaxy Book 2 Pro Software
Since this is a Samsung device, we have to talk about software. This runs a standard version of Windows 11 that we know by now. However, Samsung is adding a few more apps to make life a little easier. Besides the usual Windows settings, there are Samsung settings. It is an app that resembles the One UI interface and provides quick access to basic settings for gaming, just like a phone. Then there is the Galaxy Book Experience app which features all the guides along with other phone-friendly features here. The Your Phone app works great with Samsung phones, and the Quick Share feature mimics AirDrop functionality.
Samsung also offers a Quick Search feature similar to Spotlight on macOS. It works fine but the functionality is no different from the standard Windows search bar. In fact, I rarely used Samsung apps for work because all the essentials are a Windows 11 standard.
Samsung Galaxy Book 2 Pro Productivity
Another crucial aspect for buyers. The Galaxy Book 2 Pro's keyboard is well laid out and easy to read, with a beautiful white backlight. However, the typing experience isn't as smooth as on a Dell XPS or MacBook Air. The keys have a lot of travel but the feedback is not satisfactory – they are too soft. Hence, it becomes difficult to type for long hours on this keyboard. The power key contains a fingerprint scanner and works wonders for unlocking the laptop impatiently. The trackpad is good though, impressive in its responsiveness and precision.
You get a webcam mounted in the conventional top position, and the output is okay, not great. For indoor video calls, images appear clear. Moreover, Samsung Studio additions help you blur the background or touch up the face in meetings.
And finally, the audio quality of the AKG tuned speakers is good considering the small dimensions of the laptop. It goes loud enough for a living room and there's enough punch for a laptop speaker.
Verdict
Samsung makes some drool-worthy smartphones and now that we've had a taste of the Samsung Galaxy Book 2 Pro, we can confidently say the same for its laptops as well. The Galaxy Book 2 Pro is incredibly light and easy to handle, has plenty of performance to offer everyday people, offers an amazing display, and has all the ports you need to get the job done. For a laptop costing just above Rs. 1 lakh, these form a good spec sheet.
That said, there are areas where the Galaxy Book 2 Pro lags its competition. The keyboard isn't pleasant to use over the long term, and battery life is average at best. Aggressive power management slows things down and considering the Core i7 variant, Samsung could have offered an NVIDIA MX-series GPU to allow for decent editing and creative work.
At Rs. 1,14,990, the Samsung Galaxy Book 2 Pro is rivaled by the 13-inch Dell XPS, which we consider the benchmark for Windows laptops. If the operating system isn't a limiting factor, the Apple MacBook Pro and MacBook Air offer a slightly better experience when it comes to keyboard, battery life, and overall smooth performance.
However, the Samsung Galaxy Book 2 Pro offers the best combination of a stellar screen, a very thin and light body, good performance and the best choice of ports on an ultraportable. For that reason alone, the Samsung Galaxy Book 2 Pro is our top recommendation in this segment.
Product Name
Samsung Galaxy Book 2 Pro
Advantages
Large display
Extremely light
Fast performance
The inconvenients
Battery life
Uncomfortable keyboard