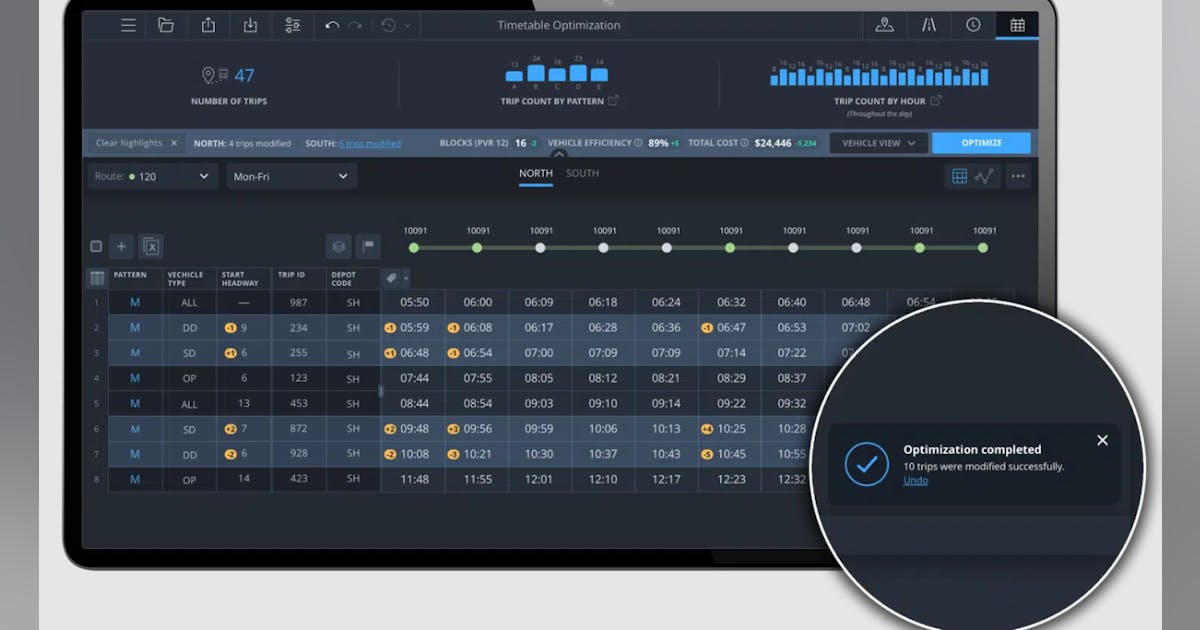 Optibus launches timetable optimization | Public transportation
Timetable optimization was pioneered by Optibus, enabling customers to minimize costs and peak vehicle (PVR) requirements for operating services while improving timetables and maintaining service quality.
The launch follows successful beta trials with Arriva Portugal and Chartered Speed ​​in India, among others. In early trials of schedule optimization, Optibus says customers have seen an additional 5% reduction in the number of vehicles required, deadheads and operating expenses.
Schedule Optimization allows customers of all technical backgrounds to leverage Optibus' optimization capabilities to experiment and quickly create schedules based on the desired shift range. Optibus' optimization algorithms can improve timetable efficiency and apply changes to both directions of travel, saving time by eliminating the work and guesswork involved in manually compensating trips.
The Optibus dashboard visualizes the changes that have occurred due to optimization, including downtime, the number of trips changed in each direction (e.g. 4 northbound, 8 southbound) and the impact on business metrics, including blocks (PVR), vehicle efficiency (percent), and total cost. Schedule Optimization calculates costs while taking into account daily fixed costs (for drivers and vehicles), hourly driver wages, unit cost of distance per vehicle, and custom preferences for layovers, connections (for example, line spacing) and the catalog of dead spots.
"The quality of a transport system can be measured by the quality of the software used to build and operate it. Scheduling optimization is an additional capability of Optibus that replaces inefficient legacy processes with a digital platform powerful backed by optimization algorithms and cloud computing. Planners can now predict the impact of their schedules better than ever, leading to a new level of service quality, cost savings and work efficiency," said Amos Haggiag, CEO and co-founder of Optibus.
The functionality is included in the Optibus Planning Module, which streamlines planning by hosting all functions on a single end-to-end platform. O