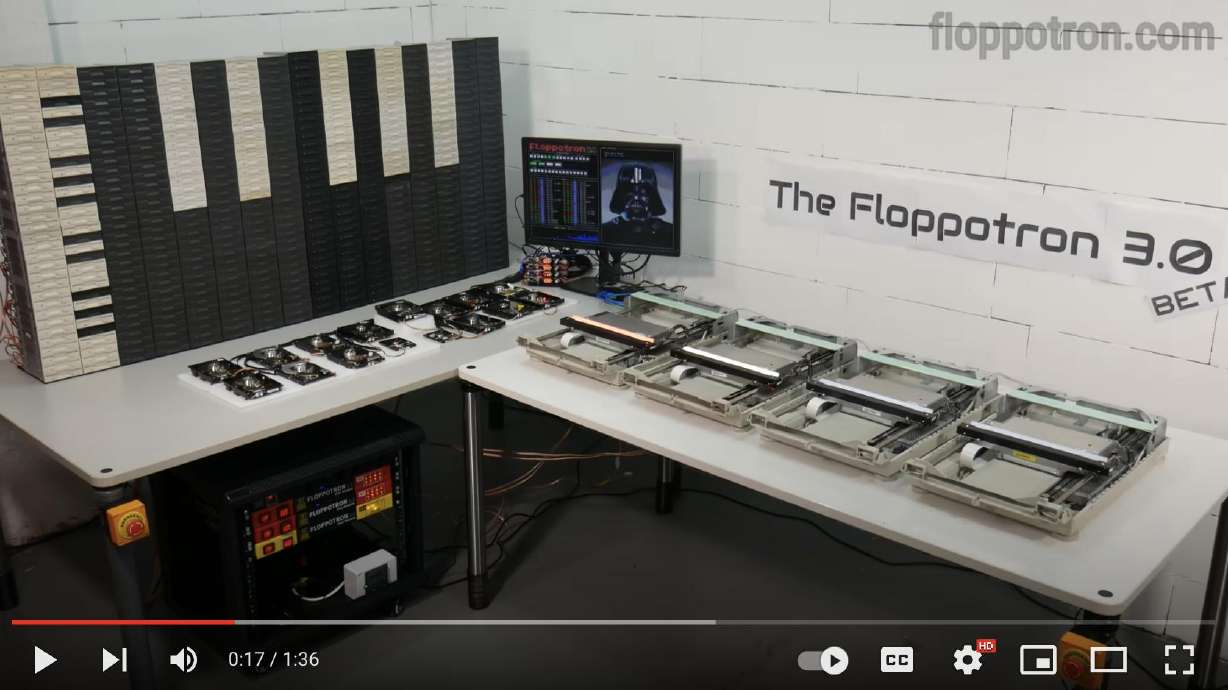 Have you seen this? 1 man found a use for floppy disk drives – making music
The Floppotron 3.0 is a musical instrument made entirely of computer hardware. In this video, he plays the Imperial March, by John Williams. (Pawel Zadrozniak, YouTube)
Estimated reading time: 1-2 minutes
OFFICE SPACE – A long time ago, in an office far, far away, a Pole decided to use computer equipment to play a "Star Wars" medley.
Some of the hardware is now a bit outdated, but apparently making music is a great use for it.
Paweł Zdrozniak, the inventor, started out simply by designing what he would later call a Floppotron with two floppy disk drives, but the instrument grew and grew.
A video showcasing the Floppotron 3.0 explains that the instrument has 512 floppy disk drives (arranged to mimic a piano), four flatbed scanners, and 16 hard drives. For those of you who understand computers a little better than I do, this video might also help you understand how the instrument works.
The Floppotron 3.0 also adds flashing lights to match the music and is able to effectively imitate an orchestra playing "The Imperial March" and other "Star Wars" themes by composer John Williams, with unique electric sounds.
The stacks of floppy disks with clusters of flashing lights look like something you might just walk through inside the Death Star.
I can only imagine it takes a little while for a song to be programmed into this Floppotron.
"Star Wars" was the original song played on Flooppotron's first video; the summary of the video called it "another useless device". Zdrozniak, however, has used Floppotrons to perform all sorts of songs in videos on the channel, from classical music to Queen, and is open to suggestions for other songs.
×
Most recent Have you seen this? stories
More stories that might interest you