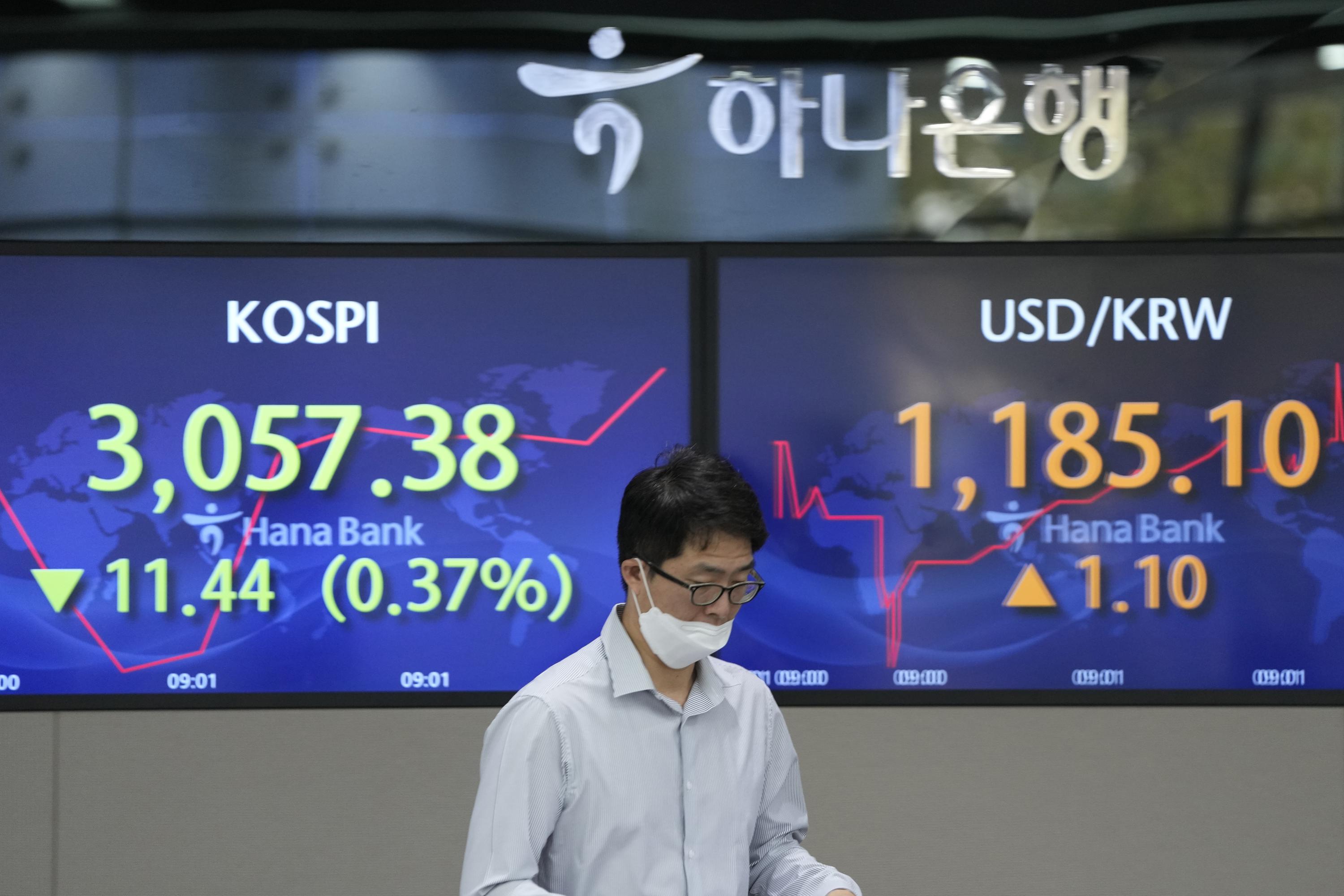 Global stocks slip after S&P 500 posts first monthly decline in '21
[ad_1]
Global markets fell on Friday after Wall Street's worst monthly loss since the start of the pandemic.
Shares fell in Paris, London, Frankfurt and Tokyo. Shanghai and Hong Kong have been closed for vacations.
The S&P 500 ended September down 4.8%, its first monthly decline since January and the largest since March 2020.
After climbing steadily for much of the year, markets have become volatile with the spread of the more contagious delta variant of COVID-19, the surge in long-term bond yields, and the announcement that the Federal Reserve may begin. to relax its support for the economy.
Rising inflation has also caused investors to reconsider recent high stock prices, leading many to sell tech stocks that have skyrocketed during the pandemic.
The German DAX lost 0.8% to 15,134.21 and the CAC 40 in Paris slipped 0.8% to 6,465.81. London's FTSE 100 was down 1% to 7,013.74.
US futures also fell, with the Dow industrials contract losing 0.7%. The S&P 500 futures contract was 0.6% lower.
Japan lifted the pandemic state of emergency on Friday after seeing the number of coronavirus cases decline as vaccinations ramp up. A quarterly Bank of Japan survey found the mood among major Japanese manufacturers has reached its highest level in nearly three years as companies contemplate a recovery.
The results of the "tankan" survey, released on Friday, revealed sentiment among major manufacturers fell from 14 to 18. This is the highest level since the end of 2018. The reading for non-manufacturers increased only slightly, to 2 from 1.
However, she and various other investigations have found that manufacturers are grappling with shortages of computer chips and other components, amid supply chain and shipping disruptions that could hamper the rebound of the pandemic.
Tokyo's Nikkei 225 lost 681.59 points to 28,771.07 points, while the S & P / ASX 200 lost 2% to 7,185.50. Seoul's Kospi lost 1.6% to 3,019.18. Shares also fell in Taiwan and Southeast Asia.
The S&P 500 lost 1.2% on Thursday but is still up 14.7% for the year. The Dow Jones Industrial Average lost 1.6%, while the Nasdaq slipped 0.4%. Small business stocks also lost ground. The Russell 2000 Index fell 0.9%.
The yield on the 10-year Treasury bill, a benchmark for many types of loans, fell to 1.49% on Friday morning from 1.50%. It was as low as 1.32% just over a week ago.
In recent weeks, economic data has shown that the highly contagious delta variant has held back consumer spending and the labor market recovery.
The Labor Department reported that jobless claims rose for the third week in a row and were higher than economists had anticipated. Ministry of Commerce improved its estimate of economic growth in the second quarter to 6.7%, which was slightly better than economists expected, but he expects growth to slow to 5.5% in the third quarter.
On Thursday, a bill to fund the U.S. government until December 3 and avoid a partial federal shutdown authorized Congress. But the dispute between Democrats and Republicans over extending the country's debt limit remains unresolved.
In other exchanges on Friday, benchmark US crude oil fell 74 cents to $ 74.29 a barrel in electronic trading on the New York Mercantile Exchange. It rose 18 cents to $ 75.03 a barrel on Thursday.
Brent crude oil fell 65 cents to $ 77.66 a barrel.
The dollar slipped to 111.14 Japanese yen from 111.28 yen. The euro was unchanged at $ 1.1580.
[ad_2]