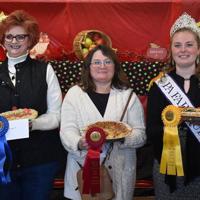 A "basket of apples" pie wins the blue ribbon at the agricultural show | News
Top apple pie baker Sharon Karlheim believes that you "eat with your eyes first" when it comes to how a pie looks. The visual appeal of her "Apple Basket" apple crumb pie design and recipe certainly scored high with her entry into the Pennsylvania Farm Show's Blue Ribbon Apple Pie Contest on Saturday, January 8 in Harrisburg. Exhibitors across the state competed for five top prizes if they first won a blue ribbon last summer at their local fairs.
Karlheim of Cambria Country took first place with her two-tone pie crust lattice basket design that made the top of her pie look like a woven basket of apples. She added green color to half the "basket" dough, along with apple cutouts and tiny daisies. This was all placed on a breadcrumb filling that included rolled oats, chopped pecans, and brown sugar. Beneath this layer were three varieties of tart apples – Pink Lady, Stayman Winesap and rare Northern Spy apples which can be hard to find – cooked before being put into the pie, but not long enough to make a "sauce of runny apples, she said. .
"A good pie starts with good apples," she said. And "the juice should not flow everywhere. You have to find the right amount of thickener.
Becoming eligible for the Farm Show competition was Karlheim's goal a few years ago. Then winning first prize at the Farm Show became his new goal, but that took years. She said she sets goals for what she wants to accomplish in competitions and then works on them. She has also won second, third and fourth place in recent years in the apple pie contest.
"You have to 'up' your game," she said. "You must have a good pie."
Karlheim had a tough few years due to knee replacement surgery that didn't go well, she said. She lost her mobility for a while. However, it gave her plenty of time to watch baking YouTube videos, she said. And, her inspirations often come when she has time to reflect.
"I do my best creative work at night when I can't sleep," she said of her pie design idea.
She hasn't decided what to do with her $500 prize yet, but she's glad her efforts paid off this year.
"If you win the lottery, that's luck, but that's different," she said. "It's something you work very hard for."
Karlheim had a unique request last summer after winning first place with the same pie at the Harmony Grange Fair in Cambria County. The manager of the fair asked her to bake the winning pie for the governor when he came to visit the fair. So she did, introducing it to Governor Wolf and First Lady Frances Wolf, who asked her lots of questions about the pie and then took it away with them to eat.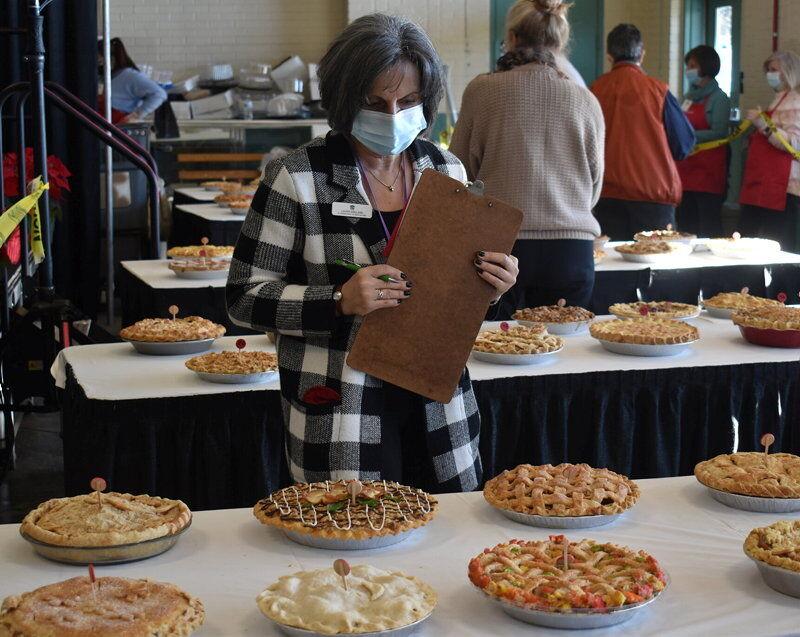 Karlheim's advice on baking pies?
"Everyone makes the same recipe differently," she said. "You can't overwork the dough, for example."
She said she was determined to compete with her baking hobby. And, she admits that she prefers to eat cream pies over fruit pies and white cake over chocolate cake (she also entered the Farm Show chocolate cake contest).
"I do it because of the contest, not because I like these cakes," she admitted.
What about the COVID-19 pandemic canceling last year's Farm Show?
"I kind of enjoyed the break," Karlheim said. "You spend a lot of time cooking when you enter these competitions."
Other winners of Saturday's apple pie contest included runner-up Lorrie Rauch of Lehigh County; third place winner Marge Shape, Washington County; Lucinda Donough, fourth place winner, Juniata County; and fifth-place Marion Clester of Clinton County.
Here is the winning recipe.
Sharon Karlheim's First Place Basket of Apples' Apple Crumb Pie
For the pie dough:
2-1/2 cups flour
1 teaspoon of salt
2 tablespoons of sugar
1/4 cup butter (chilled)
1 cup shortening, high ratio (chilled)
1 tablespoon lemon juice
3 tablespoons of ice water
3 tablespoons of vodka
Mix flour, salt and sugar together. Cut butter and shortening into flour mixture until coarse. Mix lemon juice with water and vodka and sprinkle in flour; work with a fork to moisten the dough. Note: Add just enough liquid to make the mixture sticky, but not too wet. Form 2 discs of dough and wrap tightly in plastic. Refrigerate for at least 2 hours (or overnight).
Makes 2 large crusts or 3 medium crusts.
For the pie filling:
2-1/2 pounds thinly sliced ​​tart apples
1 tablespoon lemon juice
2/3 cup sugar
3 tablespoons pie filling enhancer
1/4 tsp salt
1 teaspoon of cinnamon
2-3 tablespoons apple cider
Peel and thinly slice the apples and sprinkle with lemon juice. Combine dry ingredients and add to apples. Cover and microwave on high for about 15-17 minutes to soften the apples. Add the apple cider and let cool (you can do this the day before).
Roll out the first disk of dough to make the bottom crust and place it in the bottom of the pan. Spread the apple mixture into the pie shell. Garnish with breadcrumbs.
For the breadcrumb filling:
1/3 cup packed light brown sugar
1/3 cup flour
1/3 cup chopped pecans
1/3 cup old fashioned rolled oats
1/4 teaspoon cinnamon
1/4 cup butter, cold
Combine brown sugar, flour, pecans, rolled oats and cinnamon in a medium mixing bowl. Then add the butter and work with a fork until large crumbs form. Reserve in the refrigerator until use.
Roll out the second disc of dough for the top crust. (Dye half of second disc of dough with green coloring for two-tone crust. Add green food coloring to liquid mixture for colored dough.) Cut decorative lattice strips, apple cutouts, flowers, bow , etc
Refrigerate the pie before baking for at least 30 minutes. Then cover the edges with aluminum foil and bake (lower part of the oven) at 400 F for 20 minutes; then lower the oven temperature to 375 F for an additional 45 minutes. Remove foil and lower heat to 350 F for an additional 15 minutes until filling is bubbly and crust is lightly browned.
Note: This makes a 10 inch deep pie.